How Much Do Voice Lessons Cost?
How Much Do Voice Lessons Cost?
Knowing how much voice lessons cost is an important aspect of your research into vocal training. But in Austin, there are so many voice teachers that it's difficult to get an idea of how much singing lessons cost.
The problem is not all teachers are listed in a single database like lessons.com. So you're often looking at a teacher's website wondering whether you're going to get a good value for your money.
There are even some teachers that don't list a cost for singing lessons or provide a singing lessons price list.
How Much Do Voice Lessons Cost in Austin, TX?
To simplify things, I'd like to share some research I've done into how much singing lessons cost in Austin, TX. Then we can discuss if it's worth it to you to begin training.
How much are singing lessons?
Normally, the cost of voice lessons is based on a flat fee for an increment of time with the teacher. The flat fee is then built into the cost of singing lessons.
Voice lessons are normally priced in 30-minute, 45-minute and 60-minute increments. Occasionally, lessons are shorter or longer but the vast majority fall within the 30-60 minute range.
Singing Lessons Cost Per Hour
If we compare an hourly rate across the board, I have seen music lessons prices in Austin as low as $60/hr and as high as $125/hr depending on the teacher.
This range accounts for private music lesson prices only. Group classes, which are often cheaper, are not included.
That means that if we average this range, voice teachers in Austin charge an average of $92.50/hr. That's more than $1.50 a minute!
Are Voice Lessons Worth the Cost?
Now, before you pass out from sticker shock, it's important to remember that these prices range depending on the teacher. In my experience, a teacher's price for a voice lesson correlates to the amount of experience and education they have.
Like with anything else, sometimes the more expensive the teacher, the higher quality the voice lesson.
I personally have had some voice lessons cost $200/hr and I felt that they were totally worth it!
The truth is some teachers really know how to get you singing your best and make an hour lesson fly. I've taken other lessons where I'm just watching the clock waiting to leave.
Want to Nail Those High Notes?
Every singer wants to expand their range. Expand Your Range Fast will show you how to finally hit high notes in your voice without straining. Expand your range by 5 notes or more!
Learn More
It's all about value!
The Most Important Factor in What Voice Lessons Cost
It can be very easy to get caught up in the dollar signs and trying to find the cheapest teacher that you miss out on the most important factor in the price of singing lessons: value.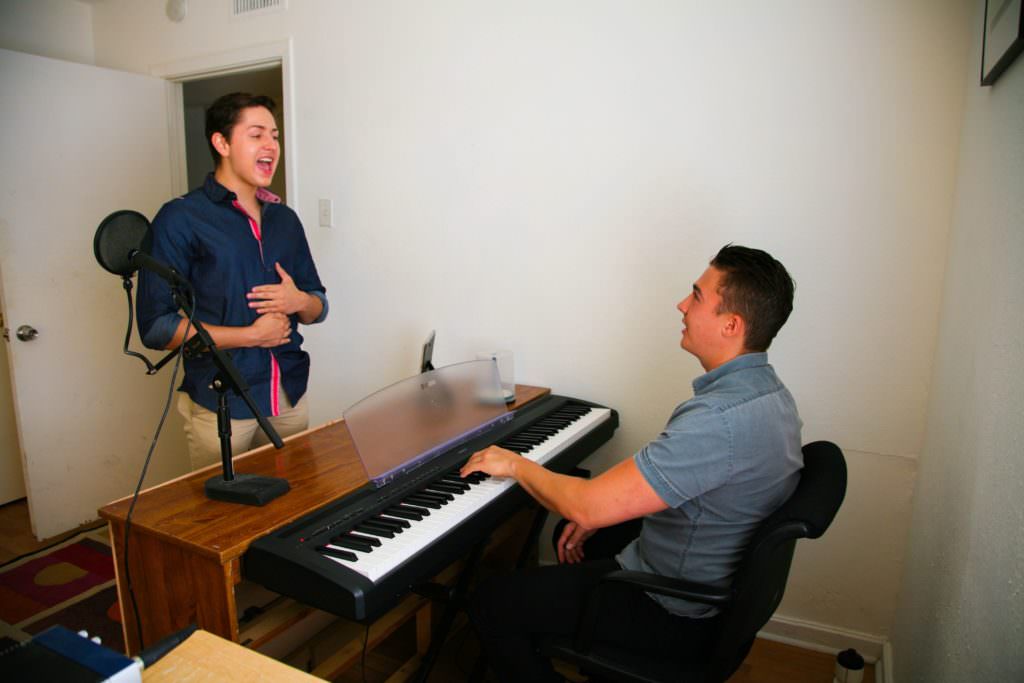 You should always feel the singing teacher has your best interest at heart and is delivering a good value. We all have our days, but even when a teacher isn't at their best, you shouldn't feel you're wasting your time.
Factor Time into Your Budget for Singing Lessons
The other reason it's important to find singing lesson prices that fit your budget is that you want to make sure you can commit a certain amount of time to developing your voice.
For a beginning singer, private voice lessons are the best way to learn to sing. But first and foremost, the most important aspect of your vocal training is that it's consistent and practiced regularly. But if you're taking out a second mortgage on your house or selling your car to afford voice lessons (it's happened!), it's only a matter of time before you have to call it quits.
The same is also true for the pro or seasoned singer. While they have already spent a lot of time developing their voice, a more experienced singing teacher will be able to consistently challenge and prepare them for the demands of the road or recording.
The bottom line is: no matter how big your dreams are, you should never put your financial future or plans at risk to take voice lessons you can't afford. Most of the time, it's better to get started by listening to great singers and learning some of the basic concepts of singing than take 2 lessons then quit.
Don't Worry, Be Happy
Remember, the voice is an instrument that always takes time to develop, so it's important that you feel that the cost of singing lessons is something you can afford for a while. At the end of the day, you want to make sure there's enough in your budget that you can relax and enjoy the process.
That's what voice lessons are for. Enjoying singing! The less you're able to worry about the financial aspect the better.
I've also done some research on the best voice teachers in Austin. I hope you find it helpful. If you'd like to get started with singing lessons at Ramsey Voice Studio, you can book your first lesson here so we can start setting goals together for your future.
Private voice lessons are available for students in Austin, TX or by Skype, FaceTime and Zoom worldwide.
Want to Nail Those High Notes?
Every singer wants to expand their range. Expand Your Range Fast will show you how to finally hit high notes in your voice without straining. Expand your range by 5 notes or more!
Learn More