Guy Babusek Answers Your Questions
Guy Babusek Answers Your Questions
Each year, the Institute for Vocal Advancement holds a conference for its certified voice teachers. In 2016, I had the amazing opportunity to sit down with Guy Babusek to answer some of the most common questions I get in my voice studio. Talking with Guy is like a personal masterclass and I'm so grateful I was able to ask him your questions.
At the IVA conference, Master Teachers and some of best minds in vocal training come to teach classes on style, theory and vocal technique. It's a great opportunity to meet up with other teachers and pick their brains.
Before attending this year, I reached out to my students and asked what questions they would like to ask Master Teacher Babusek. Here is my conversation with Guy Babusek:
Singing Lesson from Master Guy Babusek
Question 1: How do I transition to high notes smoothly without my voice cracking?
This is a fantastic question and one I had on my mind when I first started taking voice lessons. I would go so far as to say that my number one job as a voice teacher is helping my students make this transition as smooth as possible.
Guy Babusek states that first and foremost, transitioning to high notes smoothly is a skill.
He says: "I've noticed that the larger the voice, often the harder time the singer has in making the transition smoothly."
An Introduction to Vocal Registers
Usually, difficulty in transition to high notes is due to the muscles that create different registers in the voice. We call these registers chest voice and head voice.
Chest voice and head voice are terms that refer to the range of notes and their accompanying muscular function at the bottom (chest voice) and top (head voice) of a singer's instrument.
Simply put, there is a lighter mechanism and heavier mechanism. The goal when you're trying to transition to high notes, Guy says, is to develop a middle voice so they work together.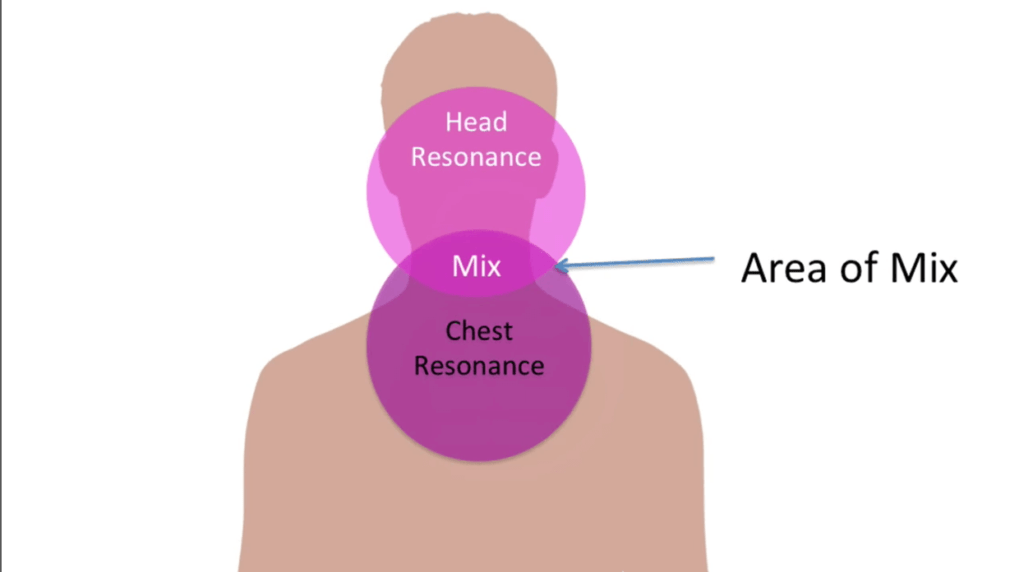 Now this seems like a simple statement. Like if you just add a little bit of head voice, or reduce a bit of the chest voice, you'll be singing smoothly in no time.
But it's not that simple. Guy says, "You can go your entire life without learning to use the muscles that control transition, let alone coordinate them."
This is totally true, when we're getting into the nitty-gritty of which muscles control your transition to high notes, we're often talking about the muscles that control swallowing, yawning and chewing. And these muscles often have a much more important evolutionary job than singing; namely, keeping you alive.
The Skill of Hitting High Notes
Transitioning to high notes smoothly is "difficult" Guy says. "And usually you can't do it just by singing songs."
Many beginning singers make the assumption that if they can only hit a high note in a song, they'll be able to do that anywhere anytime. However, like Guy mentions, transitioning to high notes is a skill. And it's one that has to be practiced.
In voice lessons, we may spend 30 minutes of an hour lesson learning to make the transition to high notes on many different exercises. This is so that once we do sing a song, we have acclimated our bodies and nervous system to achieving this complex task.
Guy Babusek compares singing to a sport: "Vocal exercises are the gym exercises and what everybody wants to do is the sport. But they don't want to do the training. That's like saying I want to be a great ballet dance but never go up to the ballet bar. Or I want to be a concert pianist but I never want to play scales."
"Sorry." Guy says, "It just doesn't work that way."
Question 2: How long should I expect it to take before I'm a world class singer?
I absolutely love this question because it's one that every singer has on their mind. While most students enjoy taking singing lessons, they all want to know how long it'll be till they're rocking the stage!
Many students are focused on achieving a specific goal. But the desire to be a world class singer is one that all students share.
When I asked Guy Babusek how long a student should expect to take voice lessons before they're a world class singer, Guy points out that depends on the definition of "world class singer".
Guy gives the example of Adam Lambert who started taking singing lessons when he was 12. Lambert is now in his mid-thirties and is the lead singer for the modern lineup of Queen.
Despite Lambert's extensive vocal training, he has only been rocking stages since he finished as runner up in the eighth season of American Idol in 2009. That means that Lambert's big break happened after 15 years of weekly vocal training!
The Timeline to Become a Great Singer
For the non-Lamberts out there, Guy Babusek says that for a well-trained voice, you should generally give yourself 8 years.
"The journey should be fun and you should see results right away," Guy says "but the whole journey takes longer."
Guy predicts that when working with a voice teacher that really knows what they're doing, you'll see some results after the first couple months.
Want to Nail Those High Notes?
Every singer wants to expand their range. Expand Your Range Fast will show you how to finally hit high notes in your voice without straining. Expand your range by 5 notes or more!
Learn More
You should be doing even better after one year.
After 3 years your voice should start feeling very secure.
And after 8 years, you should be doing really well.
If these markers sound vague, that's because every singer has their own vocal problems and vocal success will be different for each singer. Success for one person might mean getting comfortable with chest voice whereas for others it might be reducing the strain of hitting high notes with too much chest.
It all depends on the singer.
Career Success vs Vocal Success
In reference to singers that have gotten good without taking a lesson, Guy points out: "A lot of singers are very successful long before they get technically good."
Guy gives the examples of Madonna and Anthony Kiedis. Both these singers had lots of career success before they had perfected their vocal technique.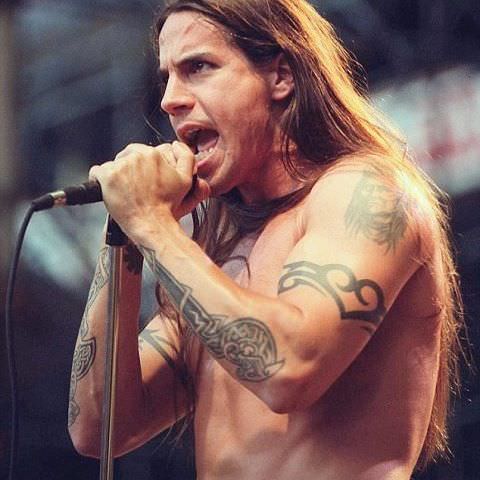 But both Madonna and Kiedis began vocal training as their careers took off and what started as trouble with pitch and strain when they were starting out has become a lot more security in their instrument.
"Anthony Kiedis couldn't hit pitch," Guy says "but now he's actually good".
Question 3: Who are some pop singers that have good range and vocal technique?
It's always difficult to name names when explaining good vocal technique. That's because good vocal technique is a moving target for lots of singers. Some artists make an album that is full of gorgeous ballads with great vocal technique. The next year they make one that sounds like thrash metal. So, when we're talking about pop singers that have good range and vocal technique, we have to speak generally of their whole career.
Another thing to remember when comparing singers to the gold standard of "good vocal technique" is that no genre of music has perfect vocal technique. Rock, pop, jazz and musical theater all stray from good vocal technique sometimes in order to convey emotion. This is the essence of vocal style.
Guy Babusek's list of singers with good range and technique:
1. Adam Lambert
Adam Lambert – Lambert is best known as having finished runner-up in the eighth season of American Idol and is now the lead singer for the legendary rock band Queen.
2. Beyonce
Beyonce – Beyonce got her big break in the amazingly successful group Destiny's Child before going solo and selling 100 million records (she only sold 60 million with Destiny's Child, poor thing).
3. Ann Wilson
Ann Wilson – Wilson is best known as the lead singer and songwriter of the hard rock band Heart. Wilson was listed as one of the "Top Heavy Metal Vocalists of All Time".
4. Michael Jackson
Michael Jackson – Jackson was one of the most popular entertainers in the world. Dubbed the "King of Pop" he was the best-selling music artist at the time of his death in addition to his massive contributions to dance and fashion.
5. Stevie Wonder
Stevie Wonder – Wonder is considered to be one of the most critically and commercially successful musical performers of the late 20th century. Wonder also accomplished the feat of being signed with Motown's Tamla label at the age of 11.
6. Donna Summer
Donna Summer – Summer gained prominence during the disco era of the late 1970s and was a five-time Grammy Award winner.
One last tidbit from Guy Babusek:
One of my favorite quotes from my time with Guy is his statement to the young songwriter/musician at home.
He says: "It you want to differentiate yourself in music today, learn to play an instrument. Learn to record a single take with no help from the peanut gallery in the studio."
I think Guy's words are as good as gold. It's easy to feel humbled talking about great singers like Michael Jackson and Beyonce and think "I could never do that". After all you're just looking at the finished product of thousands of hours of practice.
But Guy's suggestion to learn to play an instrument or learn to sing strikes at the truth about all these amazing singers. They could all sing well before they were famous. Most of them just got better.
So don't be discouraged if you're still working on hitting high notes without falsetto or learning to sing on pitch. We all have to start somewhere. Taking a first voice lesson is a great start.
Want to Nail Those High Notes?
Every singer wants to expand their range. Expand Your Range Fast will show you how to finally hit high notes in your voice without straining. Expand your range by 5 notes or more!
Learn More